Site Search
Find what you're looking for...

Navigation
Welcome!
Welcome to Jellyneo's Petpet Park guide! Our guide is currently in archive mode, meaning that we will not be updating any part of the guide going forward.
Thanks to everyone who has used our guide over the years!
---
Mystimar Glen, Cardcasters and More!
posted on May 21, 2010, 10:30 am NST by Zador
The newest area to be discovered in the Petpet Park is Mystimar Glen, which you might have seen in our previous upcoming area/item newsposts
here
and
here
.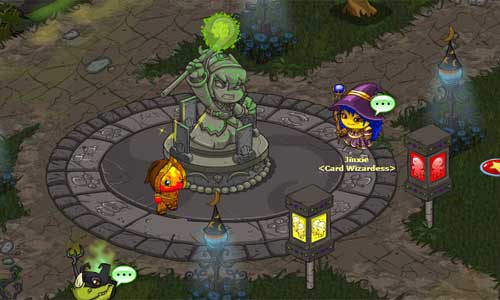 THIS is the most magical place in Petpet Park.
With May 20th now gone, the First Birthday celebrations are over, double point scores no longer active and the Park decorations have been removed from Park Pointe Square. That's not all that has changed there, however, as a new portal will take you to Mystimar Glen instantly from the Square. It seems like Mayor Bricemurdle has already used the portal to travel to the new area!
With a new area come new characters. Be sure to talk to Jinxie the Card Wizardess, Kreebul the Card Keeper and Grunst the Card Warrior to learn about Cardcasters, the newest game to hit the Park!
I'll teach you how to manage your decks!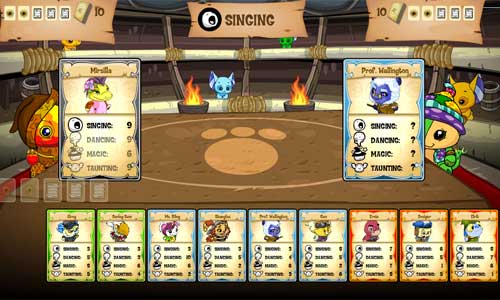 To get started with this magical new game, visit the Card Shop at the Petpet Park Mall and claim your
FREE
Cardcasters Starter Pack (includes 10 Character Cards and 2 Bonus Cards)!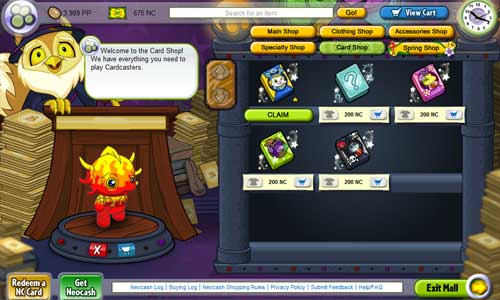 Fazzar is also willing to sell you additional packs for 400 NC each!
Three new harvestable items have been released - find the first two at Mystimar Glen and the last one at Petpet Plaza.
NOTE:
With the addition of the new Petpet Plaza bushes, all three varieties of Saiberries have been retired. To reflect this, the job
The Mysterious Temple
now requires
Snowpuffberries
instead!
The update also added plenty of jobs - including two Mall jobs. Buy the Grunst Potion Bottle and Cardcasters Fan Crafting Kit and take them to
Grunst
and
the Crafting Tree
respectively for a wearable prize!



A new Colour Bottle has appeared in the Petpet Park Mall, themed after the stained glass seen around Mystimar Glen.
NOTE:
For some reason, all regular PP Colour Bottles have disappeared from the Park!

In addition to the above special Mall items, several card packs, wizard items and polka dot clothes have appeared. You can see some of them below!





It's time for some spring cleaning in the regular Park shops!



Don't forget to visit the Park on Friday May 21st between
4-5 PM NST
to take advantage of the One Park Point Sale at Fins Feather and Fashion!

Lastly, 6 new Collecting
Badges
have been added, but NOT activated. They are all hidden, and their requirements are currently unknown.
---