Site Search
Find what you're looking for...

Navigation

Winter Festival at the Park 2009
To celebrate the winter season, the Park has lots of new thing to see and do!
Blizzard Mountain
First, a new area has been released! It's called Blizzard Mountain, and you can find it in the lower corner of the map.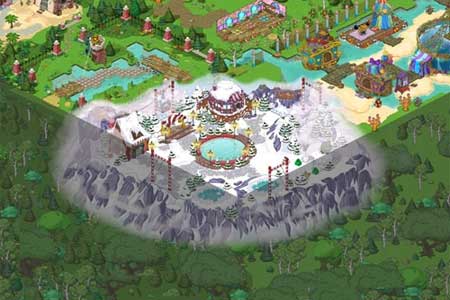 Many places at the Park have been getting small updates to reflect this time of the year, but this area concentrates on the wintery activities this season has to offer.
But of course this area comes with new harvestables! From Blizzard Mountain you can collect Snowpuffberries, Fireplacenuts, Crystal Snowflakes and Icefish.
Visit the Activities page to learn how to get us!
Wintery Colours
To help your petpet get into the spirit of the season, you can now choose between three new colours: Candy Cane, Gingerbread and Snowflake! Be sure to check out our Color Guide to get a preview of the three colours for each petpet species.
Don't I look sweet?
New Characters
Meeting new locals is always fun, and even more so if they have gifts for you :). Blitz is a winter sprite who really likes winter. He was offering a daily gift to everyone who pays him a visit from December 3rd to January 7th. He even had a present for those who don't like winter. ;)
Hehehe, winter is here!
If you like cocoa then you will love Coco. If you stop by the Cocoa Cafe you will get a free cup everyday!
This'll get the chill out of your bones!
Neville is a Polarchuck daredevil who is frequently on the recieving end of Blitz's tricks.
You should've seen it though... it was still a spectacular jump!
And finally, meet Bonk & Bink! They are two Gabars that live in a giant snowball atop Blizzard Mountain. Bonk claims to be older than the mountain itself, at over 1523 years!
Blizzard Mountain is one thousand, five hundred and twenty-three years old. Almost as old as I am!
Even though she is not at Blizzard Mountain, Kora is also feeling festive. So she is giving away a free Snowflake Wand to everyone who pays her a visit!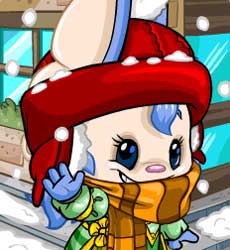 Frozen Jobs
As a part of the 33 Days of Giving Giveaway, Blitz also offered jobs. He would give you an Enchanted Ice Crystal and you had to find out a way to melt each one to get your gift! Be sure to check out The Enchanted Ice Crystal Job Walkthroughs (parts one, two and three) at the Jobs section for a complete walkthrough. If you had Nickcash, you could also complete the Deluxe Enchanted Ice Crystal job!
What great surprises lay inside us? You'll have to find a way to melt us if you want to find that out!
Warm Clothes And Other New Items
This new area comes with a new shop too! Wintery Wonders has only the best items for your wintery needs.



Tasty!
If you are more of a NC Mall shopper, there are lots of premium pieces of clothing at the Winter Shoppe. You can even buy new haircut tickets!





And once you are there, don't forget to claim your free Snowy Surprise Goodie Bag!
Yay! A free goodie bag!!!