Site Search
Find what you're looking for...

Navigation

Spring and Easter 2011
Areas
A new Special Access zone called Counting Cluckens Room was released. To enter, players had to first purchase an Counting Cluckens Room Access Key from the NC Mall or had to have an active paid membership. The area only offered one once-a-day harvestable bucket and access to the Counting Cluckens game at first, but an update in July 2011 added a new once-a-day harvestable cardboard Clucken cutout which gave random feathers that could be used at the Crafting Tree to craft new items and to obtain a badge from September 2011 onwards.
The second new area, Mellee's Clucken Barn, could at first only be access with the Deluxe Clucken Nest purchasable from the Mall on its own or in the Deluxe Nest & Feather Wings Bundle (which also contained the Clucken Feather Wings), but free access was granted later on during the event to all owners of the Clucken Tending Hat (an update in July 2011 retired the hat and changed the requirement to be a Clucken Alarm Clock). This area came with harvestable balls of yarn, two curtains that both hid a Golden Egg (one available for free, one available during a NC Mall job), and the Barn Loft - a section with a once-a-day harvestable bookcase that could only be accessed with the Clucken Feather Wings.
A third area, Park Entrance, was added as well, but was only available to new players as a tutorial zone from April 14, 2011 onwards.
Jobs
This event featured lots of jobs of varying types, such as Finian and Mellee needing help finding eggs and cluckens, filling weekly egg baskets for a special Neocash prize, various Special Access Zones egg jobs, and weekly Mall item jobs. Additionally, special jobs were available for one day only on April 1st and April 24th. All of the jobs that were released during the event are displayed below.
Shop Items
The Easter event featured many new Petpet Park items, including brand new wish coins, colour bottles, and mystery capsules. To find out more about these items, visit our Wishing Well Guide and Petpet Color Guide! All of the new items available for purchase during the event are displayed below.
Activities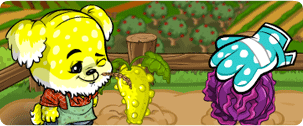 In addition to jobs, there were plenty of other things to do during the Easter event. Plenty of new harvestables were made available both inside and outside of Mellee's Clucken Barn and the Counting Cluckens Room, several gardening seed bags were released, and the Celestial Fountain and the Crafting Tree even had some crafting recipes for you to try out if you were able to spend some money in the NC Mall. Check out all the items that could be obtained from these activities in the boxes below.
Badges and Collections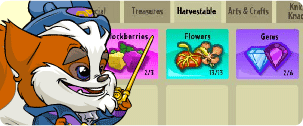 The Easter event also offered a few opportunities to build prestige among fellow Park residents. Those who found the Golden Egg were awarded with the I'm Golden badge. Meanwhile, two new collections opened up, giving players the chance to complete the Clucken Treasures and Egg-Cellent collections. Don't forget to check our Collections guide for tips on finding those hard-to-get items!