Site Search
Find what you're looking for...

Navigation

The Harvest Festival 2011
Areas
During this month of November 2011, Squippit Hollow was redesigned to include the Harvest Festival. This redesign included adding Isibel and her feast table, as well as a new method of crafting. The Harvest Oven can be used to craft several items, if you know what to bring it. To craft these items, make sure the correct items are in your backpack, and visit the Harvest Oven behind Isibel. (The Harvest Oven is only visible and usable on Fridays between 3:00 p.m. and 4:00 p.m. NST.) It will ask you if you would like to mix the items together, and if you agree, it will create new items for you!
Note: As of February 2, 2012, the Harvest Oven has been relocated to the Mystery House in Shadow Grove, and is visible and usable at all times.
Jobs
This event featured a job chain that started with Winsela and then carried on with Isibel. This chain of jobs allowed the player to help Isibel prepare for the great Harvest Feast! There was also a special access area NC Mall job featuring Isibel's older sister, Innogen, and some picnic basket jobs featuring various park locals.
Shop Items
Along with the delightful Harvest Feast event, came a couple new park shops and items! Tucked away in the far right corner of Mystimar Glen is the new shop, Mystic Merchandise. It contains existing or re-released items relating to Cardcasters or magic in general. The items require membership or NC to purchase. Not far away, the Wish Coin Shop at The University has received a complete makeover (look for the wagon on the far right side of the map). The shop simply gathers together all the wish coins available for sale right now. Coins currently require membership or NC to purchase.
And because fashion is ever-changing and growing, the Grooming Shop underwent a grand makeover during this event. There are a ton of haircuts and beards to choose from (a lot of them are new), but again, they will require membership or NC to purchase.
This event featured many new Petpet Park items, including brand new wish coins, colour bottles, and mystery capsules. To find out more about these items, visit our Wishing Well Guide and Petpet Color Guide! All of the new items available for purchase during the event are displayed below.
Activities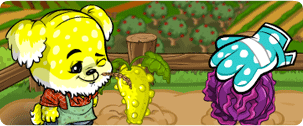 In addition to jobs, there were plenty of other things to do during the Harvest Feast event. Plenty of new harvestables were made available in Knights Keep at the mushroom patch (Note: You needed to be wearing the Mushroom Tea Hat; purchased from the NC Mall), several gardening seed bags were released as well, and the Celestial Fountain and the Crafting Tree even had some crafting recipes for you to try out if you were able to spend some money in the NC Mall. Don't forge3t the exclusive fashions that you could obtain by wearing the right outfit each week to the New Park Fashions magazine. Check out all the items that could be obtained from these activities in the boxes below.
Badges and Collections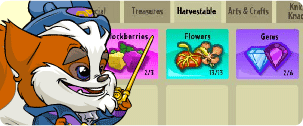 The Harvest Feast event also offered a few opportunities to build prestige among fellow Park residents. Those who attended the great Harvest Feast at the end of the month, were awarded with the Harvest Feast badge. Meanwhile, a brand new collection opened up, giving players the chance to complete the Harvest Delights collection. Don't forget to check our Collections guide for tips on finding those hard-to-get items!