Site Search
Find what you're looking for...

Navigation

Petpet Park's First Birthday Celebrations 2010
NOTE: This job was only available from May 6 to May 20, 2010.
Happy Birthday, Petpet Park!
It was finally time to celebrate Petpet Park's First Birthday, which in reality was in celebration of the Open Beta having started on May 5th, 2009 (Closed Beta had started long before that). Winsela, the helpful Angelpuss from Park Pointe Square, gave anyone who visited her a nice festive hat to celebrate the birthday with.
Birthday Fun Basket
The NC Mall was offering another way of celebrating by offering a Birthday Fun Basket for you to spend some Nickcash on. Until May 20th, you could take it to certain locals around the Park to get themed clothes and cupcakes!
The basket and the Park citizens gave candy which you then could take to other residents of the Park to get rewards from them.
These are the prizes you would get:
New Colour
A new birthday-themed colour was added in time for the celebrations.
Mystery Capsules
Faerie Mystery Capsule
Though not themed around the birthday celebrations, this enchanted Faerie Mystery Capsule was made available at the Mall for 200 NC during it on May 14th, 2010. If you were lucky enough, you could find one of the three Limited Edition items inside: Enchanting Faerie Wand, Fanciful Faerie Tiara or Fanciful Faerie Dress.
Birthday-themed 1 PP Customer Appreciation Sales
During the celebration, only one regular 1 PP sale featured a birthday-themed item:

Secret Twitter Sale
Only announced on the Official Petpet Park Twitter account, the following 1 PP birthday hat was only made available for 15 minutes between 3 PM NST and 3:15 PM NST at Fins Feather and Fashion on May 19th, 2010.
Items
Many Park Point items were released at the Park, themed after the First Birthday:
NC Items
The Mall also had some birthday-themed items to help you celebrate this special occasion!
Double Point Scores
To make the celebration extra special, all mini games in the Park gave double the amount of Park Points they would have usually given AND the Park Point limit for each day was raised from 6000 to 15000! In addition, the Petpet Park Team prepared a wallpaper for the Birthday celebrations: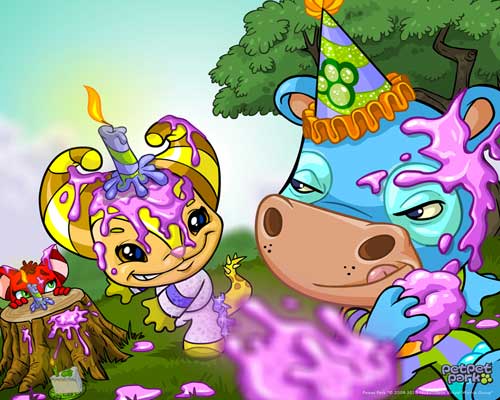 For 1024x768, click here
For 1280x1024, click here
For 1600x1200, click here

Badges
The birthday celebration gave a chance for users to get two special themed badges - one for getting the Birthday Cake Slice Hat from Winsela and one for buying the Birthday Fun Basket and delivering the three candies to the correct Park residents!
Cyodrake Dragon Parade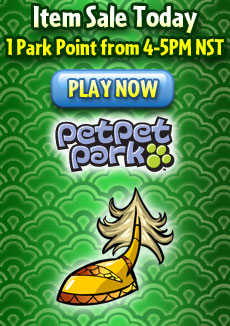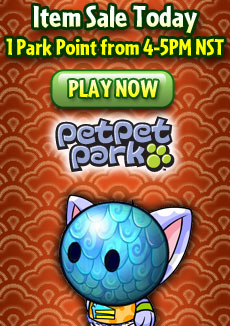 A special park point sale in celebration of the Cyodrake Dragon Parade, which was held to celebrate King Quan's freedom, was held on Friday, May 14th, 2010 at Fins Feather and Fashion. The below 4 items were on sale for 1 PP from 4-5 PM NST.
To complete the look, you could have bought this parade hat from the Petpet Park Mall for 150 NC!

After buying the above items, you were then able to gather together with friends and create your own Parade Dragon using the items at your disposal (mall and PP) and then take a screen shot! Then after spicing the image/screen shot up with intricate patterns, parade spectators and different combinations of costumes, you could email it to the PPP Staff.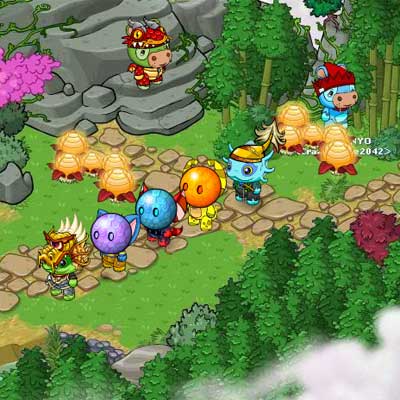 "Hi-Ho, Hi-Ho - it's off to the Cyodrake Parade we go."