Site Search
Find what you're looking for...

Navigation

April Fool's Day 2010
NOTE: The below April Fool's pranks were only available on April 1st, 2010.
In case you weren't lucky enough to get "fooled" this year at the Park; below is a recap on the hilarious event that took place on April 1st, 2010.
Winsela's Prank
A very tempting button appeared at Park Pointe Square; telling you that if pushed, it would delete all of Petpet Park.

Soo tempting... *press*
Of course you're going to push it. Who could resist a giant, mysterious button such as that?

"Aaaaaannnyyy second now..."

Welcome to the White Zone!
Looks like you actually did delete the Park. Oh, look! Winsela's here!

"Well done on not reading the sign!"
Talking to her will confirm your worst fears: the Park is indeed gone for good... or is it? She will hand you the magical Glorious Moonglimmer Sparkleshine Crown, the only way to save the Park!

Looks like she tricked you!
You then needed to go confront Winsela to be told that she did indeed play a joke on you. There is a much simpler way to restore the Park: use the reset button to the left of Winsela!

"Why doesn't this one have a sign?"
With the Park restored, you may now enjoy your prize - the jester hat crown!
To view the job guide for Winsela's Prank - "The Day Petpet Park Disappeared", click here.
Kora's Surprise
However, Winsela's was not the only one in the mood for pranks on that fateful day. If you visited Kora in front of the Petpet Park Mall at Petpet Plaza you'd get Slimy Pink Frosting, a wearable frosting mask for your petpet.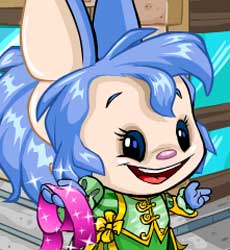 "I swear it's a pink accessory!"
She swears up and down that it's a lovely pink ribbon accessory for your petpet.. but then...

"APRIL FOOLS!!!!"
To view the job guide for Kora's Surprise, click here.
New April Fool's Items
Several Park shops have stocked up on new April Fools-themed joke items that are sure to amuse:
The Park Mall, on the other hand, has only stocked up on two April Fools-themed items. But fear not, they have plenty of new Spring-themed clothes and a Clucken-themed shield to make up for it!
Badges
After badges were introduced on April 8th, 2010, one badge was retroactively made available for users who completed Winsela's The Day Petpet Park Disappeared job.